November 20, 2010
by LES MUIR 08 Oct, 2010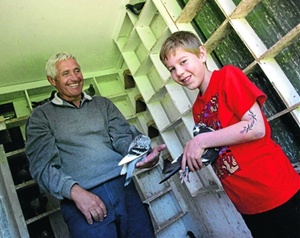 Wagga pigeon racer Paul Ryan and grandson Rhys Hawkins, 7, admire Ryan's stock in the loft on his property yesterday. Picture: Les Smith

Growing up on a south coast dairy property, retired Wagga farmer Paul Ryan dabbled in keeping pigeons. Decades later Ryan has turned his childhood hobby into a consuming sporting passion. From a humble start, Ryan has become one of the Riverina's foremost pigeon racers. Nowadays, Ryan has a team of 150 racing birds and is poised to make a spectacular bid to win a treble of important events at the weekend. Ryan, who sold his Wagga dairy in 1994 to settle on 100 acres on the outskirts of the city, yesterday revealed he would have birds flying in prized races in Canberra and Temora. "It's a big weekend," Ryan said yesterday. "These are some of our biggest races. "We've got the Canberra nationals and the Country Cup and Combined Breeder's Plate at Temora. "I'll have two birds in Canberra and three in each of the Temora races." Despite the sport generating prizemoney purses of thousands of dollars, Ryan is quick to shrug off the financial aspect of racing pigeons. "I just think it's a pretty good pastime - keeps you busy," Ryan said yesterday. "I had pigeons when I was a kid, but I only got back into them when I retired from farming. "I've been slowly setting up for a couple of years now and this is the first year I've raced." A member of the Wagga branch of the Riverina Racing Pigeon Federation, Ryan has made an impressive start to the competitive side of pigeons. Currently leader of the progressive long distance point score, Ryan made a clean sweep of races flown last week from Coonamble, an airline distance of 480 kilometres. "So far so good," he laughs. With 150 racing birds, and 20 pairs of breeding stock, Ryan falls well short of the numbers of some other prominent pigeon fanciers in the region. "Pigeon racing is pretty big in Temora," he said. "Some of them over there have got 300 birds. "I'd only be about average with 150." For Ryan, the racing angle is only half the challenge of having a loft full of prized fliers. "You try to breed your own birds," he said. "A while back I went around Australia and met some breeders in Port Pirie and Port Augusta, which is a renowned racing area. "I bought some stock birds and sort of went from there. "They were the nucleus (of the breeding program)." A keen tennis player, Ryan will soon have more time to devote to the courts. Fellow Wagga pigeon racer John Clay said the racing "season" was reaching a climax. There are only a few races left," Clay said. "It will all start up again next year."
Article courtesy of The Daily Advertiser.
www.dailyadvertiser.com.au
Posted by Admin. Posted In : General Interest